As we mentioned last week, we've been wanting to collaborate with some of our super-talented local food compadres, and last week, we did just that with Sheela Namakkal and her ultra in your face chocolate concoctions. This week, another one of kind talent, Erica Strait of Foxy Falafel  brings her genius to our world of craft ice cream. Erica is turning out some of the best Falafel these twin cities have to offer using local and organic ingredients whenever possible; Falafel topped with green tahini, humus and cucumber mint yogurt. Make you thirsty? Wash it down with a cup of her homemade Kombucha. Never had it? You best check her twitter feed(@foxyfalafel) or Facebook  page to see when and where you can catch her next at your local farmers market. Look out, because soon Foxy will be mobile with her newly purchased food truck.
Straight, or should I say Strait out of the gate, Erica had a goldmine of ideas, each consisting of multiple components. By the time I had my head wrapped around something, she threw in a couple more. Note to self…I'll be calling Foxy next time I encounter a creative block. We were able to piece together more than one these ideas and come together as a whole in what FrozBroz calls Baklava with Foxy Nutz and Salty Pomegranate Caramel.
We ended up starting with these walnuts she makes…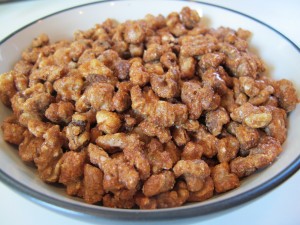 I call them Foxy Nutz. They're baked with egg whites, star anise, sugar, salt and a few other secret spices. The result is everything you want a nut to be; light, sweet, salty and spicy. There is a clean airiness to these nuts that is unprecedented. They're going in at the end of the churn.
One of Erica's original thoughts was an orange vanilla baklava, which morphed into the actual flavor of our ice cream base. I loved the idea of a baklava ice cream, but I knew the baked Phyllo wouldn't hold up in the cream.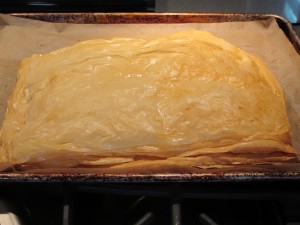 So, how do we make this work? I decided to butter up some Phyllo and bake it off in the oven. This can't be a bad start, right?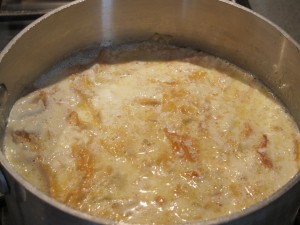 Next, I warmed our cream. Tossed in some orange zest, cinnamon stick and cloves. And then, chopped up the baked buttery Phyllo and tossed that into the cream as well for a good 'ol fashioned steeping. To my satisfaction, the cream absorbed the flavor and starches from the Phyllo, giving the base a baklava-esk flavor and an ultra rich texture. After the steep, we strain out all solids and our base is ready to rock 'n roll into the mixer.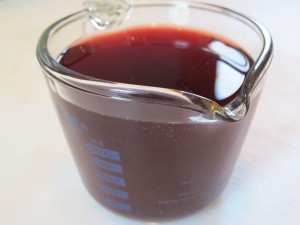 There were a couple of flavors Foxy threw out that involved pomegranate, and I really wanted to use it, because it's something I hadn't considered using in ice cream before. We both agreed that a salty pomegranate caramel would pair nicely with the flavors of the baklava cream base.
To make the caramel, I started with a 100% pure pomegranate juice(seen here) and reduced it down 3-4 times into a concentrate.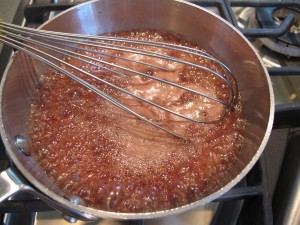 The concentrate then gets added to the caramel as it's boiling down. The caramel gets a good salting, and after it's cooled, it's ready for layering into the pints during packaging.
Extremely smooth Baklava base, with sweet and salty spiced walnuts layered with the tartness of the salty pomegranate caramel.
Foxy Frozbroz unite!
Another flavor you can't find anywhere else: Baklava with Foxy Nutz and Salty Pomegranate Caramel.
Want to try it for yourself?
As we do every week, we'll be giving away two pints of this flavor. Just leave a comment on our facebook page to be entered into the drawing. If you don't have a facebook account, leave a comment right here on the blog. We'll draw two winners on Friday afternoon (3/30/2012) at 4pm and will announce them on our facebook page (or email you if you're comment resides here). Our only conditions are you must be able to pick it up here in Minneapolis, and be willing to give us a little feedback that can be shared with everyone else. Good luck! Also – don't forget about our Indiegogo fundraising – we've got 43 days to go and need all the help we can get! http://www.indiegogo.com/frozbroz?a=446076