Our friends at Nordeast Nectars are beginning to harvest honey again and we're going to do our damndest to get this liquid gold into our ice cream as much as possible.  I've been wanting to do a salt bagel and cream cheese flavor for awhile, and when our beekeeper friends announced it was honey time, it seemed like it should also be honey, salt bagel and cream cheese ice cream time.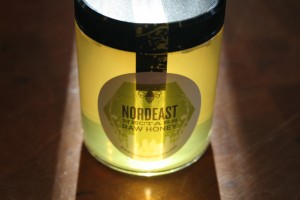 Angelic? That's one way to describe the flavor of Nordeast Nectars honey.
Thanks to a quick survey of our followers, we were pointed to St. Paul Bagelry in our search of a good salt bagel.  Good indeed.  These circles were crunchy on the outside and chewy on the inside just like they should be, with salt on the top AND the bottom.  Bingo.
Salty.
We sliced and diced them, added a little butter and baked them a bit more to help them hold up in the ice cream.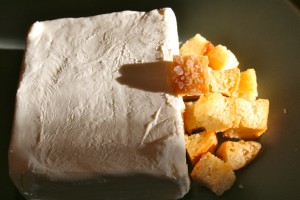 Oh, and let's not forget the cream cheese.
The cream cheese and bagels were mixed into the base, and the golden nectar was woven into the cream as it went into the pints.
There you have it.  Salt bagel, cream cheese and honey ice cream.  Extremely creamy.  A little salty and some serious sweet.
Like to try some?  As we do every week, we'll be giving away two pints of this flavor. Just leave a comment on our facebook page to be entered into the drawing. If you don't have a facebook account, leave a comment right here on the blog. We'll draw two winners on Friday afternoon (6/29/2012) at 4pm and will announce them on our facebook page (or email you if you're comment resides here). Our only conditions are you must be able to pick it up here in Minneapolis, and be willing to give us a little feedback that can be shared with everyone else. Good luck!