Happy New Year y'all! The holidays are sadly behind us, but alas, a new FrozBroz flavor is right before us. As we've mentioned before, we take inspiration for our flavors from just about anything, anyone, anywhere. This week, it was a holiday gift idea from our buds Jill and Derrick Pulvermacher that had the stars aligning for our flavor: Maple Maple Swirl.
It turns out that Derrick's father, Jerry Pulvermacher, produces a small lot of fantastic maple syrup every year with a few of his buddies in Plain, WI. Jill and Derrick thought it would be nice gift idea if we could create a flavor that featured Jerry's maple syrup. How could we resist?
The maple syrup hand-off was made and history begins. About ten years ago Jerry and some of his friends started making maple syrup. It was the start of a hobby, and one that was likely a good excuse to have a few beers in the woods with the guys. In their first year they only tapped about 75-80 tress and produced 1-2 gallons just for themselves. The sap was originally cooked over a fire in an open pan. As time went on, demand increased as more people got their lips on their syrup. The guys tapped more and more trees each year, and about 5 years ago, they purchased an evaporator and started bottling and selling. In 2011 they tapped 350 trees and ended up with 160 gallons of syrup. That's a lot, right? Well, I was pretty shocked to find out that it takes 50 gallons of sap to produce one gallon of maple syrup. You can do the math on that one. In 2012 they tapped 650 trees and only produced 165 gallons of syrup. If you remember, last years winter was mild, and Spring was warm. It's a true snap shot of how climate change can really effect maple syrup producers. We have our fingers crossed for Jerry and his buddies down in Plain, WI because their maple syrup is liquid gold, and we hope they keep producing for years to come. If you're in the area, you can find their syrup at local restaurants and cheese shops in and around Wisconsin Dells as well as the Wollersheim Winery.
For the ice cream, we wanted to slap Jerry right in the face with the intense maple flavor of his syrup. We decided we needed to flavor the ice cream base with the syrup, and also, make a reduction to swirl in as a sort of maple syrup caramel. As ice cream makers, the dilemma once again, is making sure that we aren't adding too much water content to our mix, as the texture will become icy and undesirable.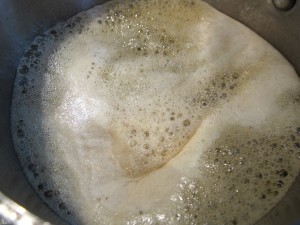 To avoid that, we once again, boil the syrup down and reduce it to a thick caramel consistency.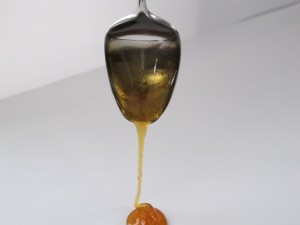 The syrups sugars are now condensed enough that it flows off of a spoon more like honey than maple syrup. At this point, we set aside some of the reduction for layering into the pints during packaging, and we reduce the remaining syrup a little more before adding it straight into our ice cream base. The ice cream mix is heavily salted before churning.
The result is a dense salty creamy maple ice cream layered with pockets of reduced Hilltop Sugar Bush Maple Syrup. Cheers, Jerry!
You can win one of the only two pints in the world, filled with this fabulous, scratch made craft ice cream in our weekly pint giveaway. Enter your name in the comments section here, or on our facebook page under the posted contest.  2 lucky winners will be drawn randomly on Friday 1/4 at 4pm.  Winners must be able to pick up locally and give us feedback. Pints must be claimed by email within one week or we will redistribute. 🙂 Good luck!