Week two of Peach madness here at FrozBroz. Last week we had a record response to our Brown Sugar, Grilled Peach with Cinnamon Syrup, so we thought we'd wrangle another peach flavor into our repertoire for you to drool over. After all, it is still peach season here in the upper Midwest. I decided I wanted to showcase this weeks peaches in a marmalade accompanied by one of peaches best friends, pistachios(FYI, peaches other best friend is ice cream). They make for a great pairing, so let us introduce our Pistachio with Peach Marmalade.
These are organic raw pistachios. Their color is bright as is their flavor. In the past, we've always used pistachios as an addition to our ice cream not only to pair with other flavors, but to add texture with crunch from the nut itself. This week I set out to flavor the ice cream with the pistachios themselves. To start with, stacios get tossed in the oven for a little roasty toasty.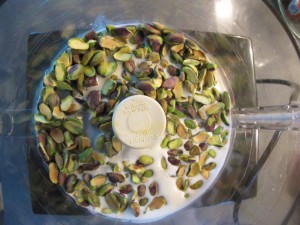 When they come out of the oven, they go into the food processor with a little cream, and get pulverized. This pistachio mash gets steeped in our ice cream base and strained out through a fine mesh chinoise.
The base is salted and ready for action.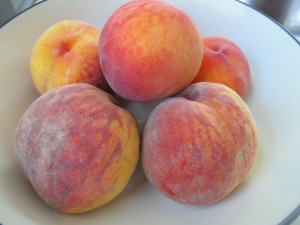 Oh, and speaking of ready for action. These peaches from Barnard Orchard in Wisconsin are ready for some serious simmer down action.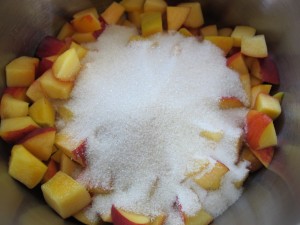 Peaches get diced and tossed in a sauce pan with sugar, lemon juice and candied ginger. We crush them a bit to release their juices and break up some of the larger chunks.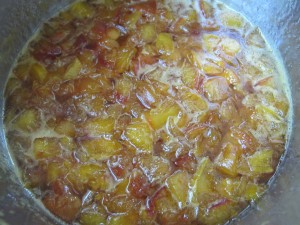 On the stove top for a simmering. The peaches breakdown, become translucent, and their flavors concentrate.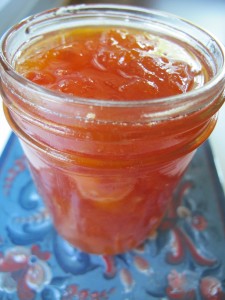 Peach Marmalade! Golden orange color and ripe peach flavor, this marmalade is ready for your mouth – and our ice cream. We layer it in alternating with our rich creamy pistachio ice cream base.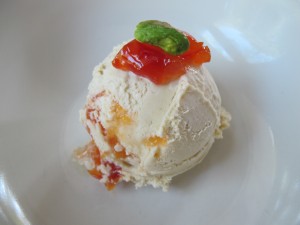 And the result: FrozBroz Pistachio with Peach Marmalade ice cream!
Want to try some? As we do every week, we'll be giving away two pints of this flavor. Just leave a comment on our facebook page to be entered into the drawing. If you don't have a facebook account, leave a comment right here on the blog. We'll draw two winners on Friday afternoon (8/31/2012) at 4pm and will announce them on our facebook page (or email you if you're comment resides here). Our only conditions are you must be able to pick it up here in Minneapolis, and agree to give us a little feedback that can be shared with everyone else. Good luck!