This is a flavor solely inspired by our friend Mandy Rismon.  Mandy, a fellow food nerd sent us a fantastic recipe she drummed up in her own kitchen, for a riesling poached pineapple w/ rosemary whipped cream and pink peppercorn garnish as an idea for a new flavor.
We loved it and since we have been wanting to rock some pineapple, chose to use her recipe for this weeks flavor.  We had to make some minor changes to Mandy's recipe to make all the elements work with ice cream, but the end result is a total win.
An exciting, but very important sidenote – this is our first week using cream from Pride of Main Street Dairy from Sauk Center, MN.  We're pretty pumped about how awesome it is.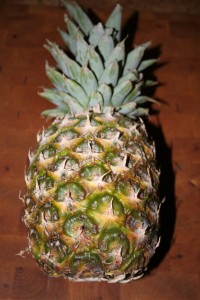 Fresh organic pineapple, straight from Seward Co-op.
First, for the pineapple, we chose to grill it to get some of the water out, and add a little char to the mix.
Don't worry, we took out the core.
Then, we candied it with a touch of maple syrup to impart a little extra sweetness and get that last bit of water out to ensure there would be no icy.  Avoid the ice.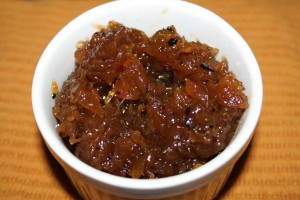 Candy indeed.
We steeped the rosemary  to give it a nice background flavor in the cream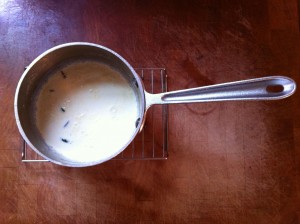 Do not disturb…
And to finish, we added some freshly cracked, fruity pink peppercorns straight into the cream during the churn.
Pretty aren't they?
Last but not least, the pineapple was carefully layered into the pint, so as not to completely overwhelm the subtlety of the rosemary and pink peppercorn.  We think it turned out spectacularly.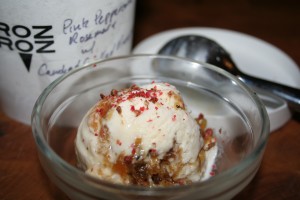 Here it is.  Would you like to see more of this kind of ice cream or be able to buy it online?  Then please, help us with our fundraiser on indiegogo, we only have 22 days left and need all the help we can get! And in exchange you'll be one of the first to get our ice cream.  Visit our page at www.indiegogo.com/frozbroz
As we do every week, we'll be giving away two pints of this flavor. Just leave a comment on our facebook page to be entered into the drawing. If you don't have a facebook account, leave a comment right here on the blog. We'll draw two winners on Friday afternoon (4/20/2012) at 4pm and will announce them on our facebook page (or email you if you're comment resides here). Our only conditions are you must be able to pick it up here in Minneapolis, and be willing to give us a little feedback that can be shared with everyone else. Good luck!