We've kicked 2015 off with citrus in last week's wondeful Mimosa flavor, and since nothing cuts through the bitter cold better than lemons, limes and oranges we're going to keep it going.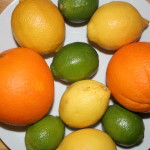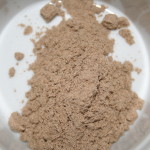 The real inspiration for this week's flavor, however, has as much to do with the cardamom as it does the fruit.  I realized several years ago that a little too much cardamom reminded me vividly of a flavor from my childhood, but could never pin it down.  Then one day I realized what it was – Fruit Loops.  That's right.  I don't know if they actually use Cardamom in the sugary kids cereal, but ever since I made the connection I've wanted to duplicate the fruit loop flavor in ice cream.   Naturally, it has to be paired with lemons, limes and oranges right?  RIGHT.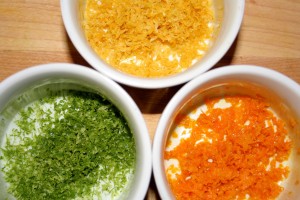 To impart the citrus flavor we use only the zest.  Ah the magic of zest.  All of the fruit flavor without all of the water content that makes ice cream icy – and the leftover juice for us to enjoy with something else.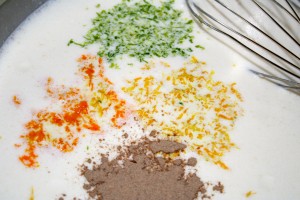 The cardamom is mixed into our sweet cream base along with all of the citrus zest, and all the flavor co-mingles during the pasteurization process.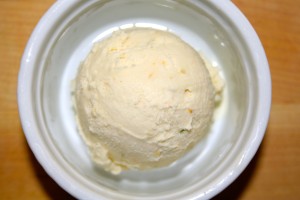 Rich sweet cream infused with lemon, lime, orange and cardamom.  A pretty spot on replication of the nostalgic fruit loop flavor. And for something new this year – the recipe!
Triple Citrus Cardamom Ice Cream:
Ingredients:
2 Cups of Heavy Cream
1 Cup of Milk (choose your percentage based on how fatty/creamy you'd like your ice cream to be – the higher percentage the creamier the ice cream)
2 large eggs
3/4 Cup sugar
1 teaspoon Lemon Zest
1 teaspoon Lime Zest
1 teaspoon Orange Zest
1 teaspoon cardamom
Instructions:
1. Crack eggs into a mixing bowl and whisk fully.  Add sugar and whisk more until cream, sugar and eggs are combined.  Add cream, milk, citrus zest and cardamom and whisk again until all are fully incorporated.
2. Place ice cream base in a small pot and heat over medium heat, whisking or stirring continuously until temperature reaches 165-170 degrees. Remove from heat and cool to room temperature (an ice bath will do this in about 15-20 minutes) and then place in a container, cover and chill in refrigerator overnight.
3.  Churn ice cream base in ice cream machine according to manufacturer's instructions.  You can eat immediately as soft serve, but we would recommend freezing in a tightly covered container for at least 4 hours, preferably overnight if you can wait.  The flavors will continue to develop and change over the next few days.  Enjoy!
*Yields approximately 2.5 pints
If you'd rather not make it, you can be one of two lucky winners of this fabulous, scratch made craft ice cream in our weekly pint giveaway. Enter your name in the comments section here, or on our facebook page under the posted contest. Two winners will be drawn randomly on Friday 1/9/15 at 4pm. Winners must be able to pick up locally in Minneapolis. Prizes must be claimed by email within one week or we will redistribute. 🙂 Good luck!