Although not local, olive oil is something we always have on our table during the harvest season. It seemed only fitting to add a great pair to olive oil – Parmesan Cheese. Together they work in harmony as they both provide fruity and nutty notes to make this batch another in-your-face FrozBroz flavor.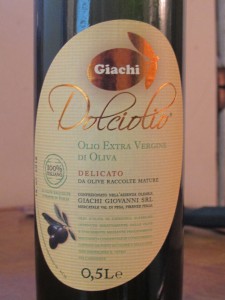 We start with this beautiful Extra Virgin Olive oil from Tuscany, Italy – "Dolciolio", meaning sweet oil, has olives that are picked by hand to avoid bruising, and pressed within 24 hours before any fermentation can occur. This oil is a mix of Leccino, Pendolino and Maurino olives. Want to buy a bottle? Check it out at Coastal Seafoods, Minneapolis.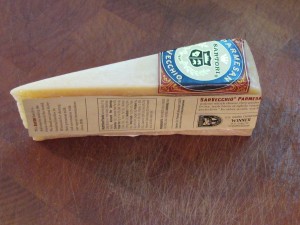 We add finely grated SarVecchio Parmesan Cheese from Sartori Cheese in Plymouth, WI. This cheese speaks for itself.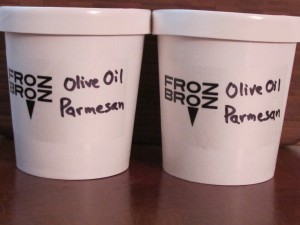 In your face! FrozBroz Olive Oil Parmesan Ice Cream.
As usual, you can win one of two available pints this week — leave a comment on our facebook page at facebook.com/frozbroz to be entered into the drawing. If you don't have a facebook account, make your comment right here on the blog. We'll draw two winners later this afternoon and will announce them on our facebook page. Our only condition is you must be able to pick it up. Good luck!