This flavor is a perfect example of how fate leads us to an end we hadn't planned on or even thought about when we started.  Originally this was going to be a simple Lychee ice cream.  When one finds fresh Lychees in Minnesota, one is compelled to buy them immediately.  It all seemed serendipitous.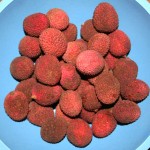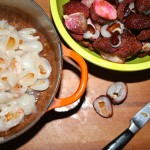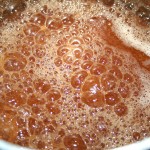 One problem: by the time I reduced the water filled lychees down into a syrup to flavor the ice cream, I just didn't have enough to make the flavor strong enough.
So…time for a left turn.  I had fresh cilantro and it seemed like a nice pair for the lychee syrup.  Adding a nice salty crunch to the mix sounded nice, and I also happened to have cashews on hand.  So maybe we call this a pantry flavor?  Or maybe I should stop talking and get on with it..
We've wanted to use cilantro for awhile – though it's a divisive flavor.  I happen to be in the camp that loves it.  The other camp (otherwise known as the "vile weed" camp), only taste it as a soapy, bitter nastiness.  So apologies to you folks, and follow me cilantro lovers!  The cilantro was steeped in the cream to scent the flavor without making it super pungent.  I of course would like more.  Maybe next time.
The cashews were tossed in butter and salt, and roasted in the oven until golden and crunchy.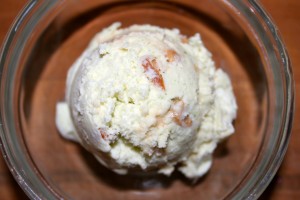 And that brings us to the scoop – a cilantro scented ice cream swirled with lychee syrup and studded with crunchy roasted cashews.
Like to try some? You can be one of two lucky winners of this fabulous, scratch made craft ice cream in our weekly pint giveaway. Enter your name in the comments section here, or on our facebook page under the posted contest. Two winners will be drawn randomly on Friday 6/13/14 at 4pm. Winners must be able to pick up locally. Prizes must be claimed by email within one week or we will redistribute. 🙂 Good luck!