In anticipation of our trip to Minnesota Peach, David Griffin's fruit and vegetable farm in Cold Spring, MN(http://vimeo.com/27403794), we got to thinking about what we could pull together as a representative ice cream. David's niece, Molly, kept us updated as to what was ripe and in season. It seemed every weekend something came up and we weren't able to make it out to the farm.  Fortunately, this gave us time to conceptualize this one – Plum Jam with Maple Orange Walnuts.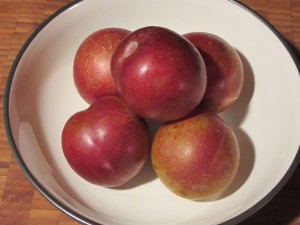 We start with Cinderella Plums from Michigan, purchased at the Seward Coop. These plums are sweet and bright, but wait until we get our hands on some of David's "Surprise" plums next year.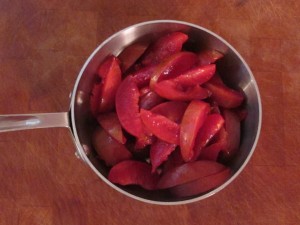 Pitted and sliced, then thrown in a pan and toss with sugar and lemon.
Simmer Down. Plum Jam. Like Jammin? Check out Serious Jam www.serious-jam.com/ located here in Minneapolis.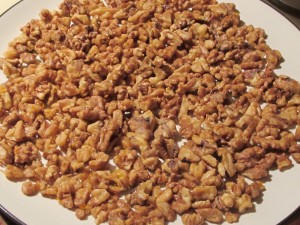 These Walnuts get slow roasted with Wild Country Maple Syrup from Lutsen, MN , then finished with orange zest, cinnamon and salt.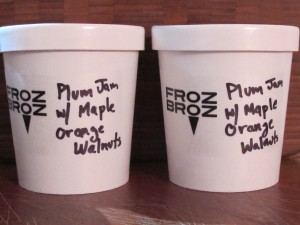 Thanks to Minnesota Peach for a huge amount of inspiration. To that – Plum Jam with Maple Orange Walnuts.
As usual, you can win one of two available pints this week — leave a comment on our facebook page at facebook.com/frozbroz to be entered into the drawing. If you don't have a facebook account, make your comment right here on the blog. We'll draw two winners later this afternoon and will announce them on our facebook page. Our only condition is you must be able to pick it up. Good luck!