We've often talked about what we do with ice cream to be similar to craft beer.  Aside from being passionate fans of craft beer ourselves, there are a lot of parallels between the two.  Anyway, its probably a conversation better had over a beer, but needless to say brew-making ingredients have often intrigued us and our fondness for craft beer has led us to exploring the possibilities of some of these in ice cream.  Malt, of course has had it's place for a long time.
This flavor however, marks one of our first full forays into the category and I'm sure we'll have more to come.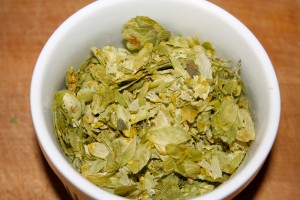 For this flavor I chose the well known Cascade hops as the main flavor component.  I was a little concerned that a fresh hop would be too bitter so we went with a steep of dry hops instead.  It would be interesting to see the difference between the two but we'll leave that mystery for future endeavors.
The dried cascade hops are reconstituted in our sweet cream base, and steeped in it during the heating/cooking process.  The flavor they impart is very recognizable – perhaps even amplified by the cream.  Very fruity and floral, with a bitter finish.  Such an interesting little profile for an ice cream flavor especially when balanced by the sugar and fat.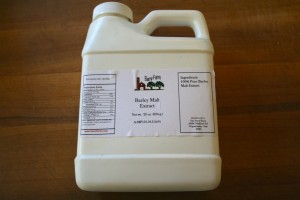 To help balance out the bitter finish of the hop, I wanted to add another sweetness factor.  Though barley malt syrup is usually used for subtle flavoring, it's pretty darn tasty and very sweet – and is the perfect consistency for a swirl in.  So we swirled in the barley malt syrup at the end of the churn and it really rounds out the beer flavor.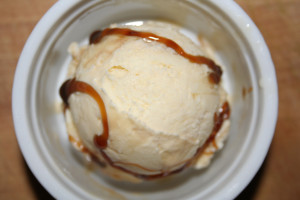 The scoop is a bright and fruity, yet slightly bitter cascade hops infused ice cream, tinted with malty sweetness from the barley malt syrup.  Goes great with a beer!  I enjoyed it with a glass of Milwaukee Brewing's Black Iron Ale.
You can be one of two lucky winners of this fabulous, scratch made craft ice cream in our weekly pint giveaway. Enter your name in the comments section here, or on our facebook page under the posted contest. Two winners will be drawn randomly on Friday 10/31/14 at 4pm. Winners must be able to pick up locally. Prizes must be claimed by email within one week or we will redistribute. 🙂 Good luck!