Ground Cherries have been a late summer staple in my house for years, and seem to be getting more popular every year.  They are similar to a tomatillo with makeup and husk, but have a caramal sweetness to them with just a bit of sourness.  I love to use them as a pizza topping with speck or prosciutto, but they work great in desserts as well.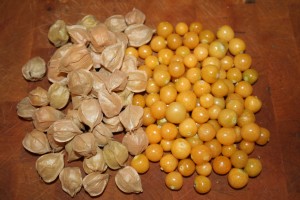 For the first attempt at brining them into the ice cream world, I chose to reduce them down into a simple, unaltered jam.  The ground cherries were husked (which is a painstaking task for how small they are), pureed, and reduced with organic sugar into a bright yellow jam – the smell of the jam is incredible – a combination of baking bread and caramel – and the taste is very bright, and somewhat honey like, but with a tart edge and a bit of nuttiness gained from the tiny seeds.
To pair with the sweetness of the jam, I went with a Chevre base using Chevre from Donnay farms and comined it with the last of the charred vanilla bean leftover from earlier this summer.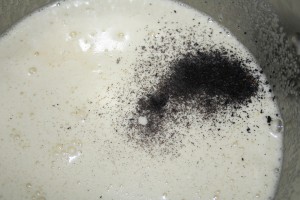 The powdered charred vanilla goes straight into the chevre base and works harmoniously with the tanginess of the chevre.  To really make the Ground Cherry Jam sing, I slightly reduced the sugar content of the ice cream base.
At the end, the ground cherry jam was swirled into the base to create a nicely balanced ice cream – dense, tangy chevre flecked with hints of charred vanilla bean, and rippled with a butterscotch like ground cherry jam.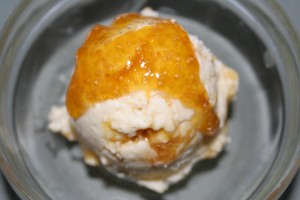 A bright, and incredibly rich nod to the end of summer.
And that's that. You can win one of the only two pints in the world, filled with this fabulous, scratch made craft ice cream in our weekly pint giveaway. Enter your name in the comments section here, or on our facebook page under the posted contest.  2 lucky winners will be drawn on Friday 9/21 at 4pm.  Winners must be able to pick up locally and give us feedback or else 🙂 . Good luck!