Winter in Minnesota this year has brought us milder than usual temperatures, but this week is a different story. Winter is finally showing face and with the temperatures falling, what better way to celebrate than with some FrozBroz ice cream. This cold weather got us thinking about hot beverages, and in particular, hot tea. With all of the herbal teas out there, we decided to start with a classic in the ice cream world, and add a little orange twist.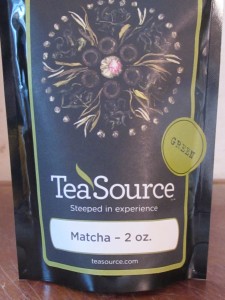 This is Matcha Green Tea from the Tea Source in St. Paul. They provide the Twin Cities with the highest quality teas from around the world. Matcha is a Japanese ceremonial tea which has very complex vegetal qualities to it, which in our minds makes it great for ice cream.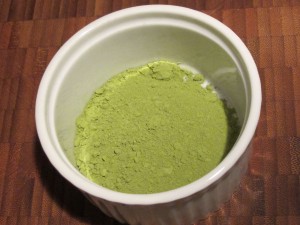 The leaves of Matcha are ground into a silky powder.
We steep this Matcha powder in hot cream, and although we can not be sure, we believe that most other ice cream makers making green tea ice cream skip this step. Instead they incorporate the powder directly into the base. Remember those complex vegetal notes? Steeping brings those out BIG TIME!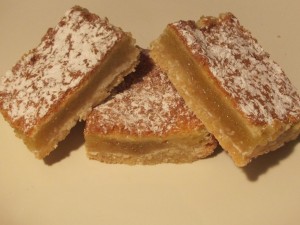 And here's the orange twist! Citrus is in season, so we decided to rock these orange shortbread bars, made with butter, flour, sugar, orange and orange zest. They offer a great balance to the herbalness of the tea ice cream. The acidity of these bars cuts right through.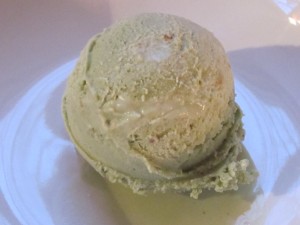 Come celebrate Winter with us and have a little Green Tea with Orange Shortbread Bars.
How about a free pint?  As we do every week, we'll be giving away two pints of this flavor. Just leave a comment on our facebook page to be entered into the drawing. If you don't have a facebook account, leave a comment right here on the blog. We'll draw two winners on Friday afternoon (1/20/2012) at 4pm and will announce them on our facebook page. Our only conditions are you must be able to pick it up here in Minneapolis, and be willing to give us a little feedback that can be shared with everyone else. Good luck!