I often think of the impact of this venture has on our kids.  My son is an extremely picky eater, but he's eaten things that he would never dream of even considering were it not translated to him in the form of ice cream.  Our boys are around ice cream all of the time, have access to it far more than I ever did, and are developing preferences in flavor that is a little mind boggling.  Pretty cool.
On the other hand, they tend to have an equal impact on what we do.  Obviously having children means the thought of the nutrition (or lack thereof) in ice cream is always on our minds, which is why we preach moderation, small portions, exceptional quality and big flavors.  They also help us remember what is was like to be a kid ourselves, and some of the foods that we might have forgotten.  Enter, Apples and Peanut Butter.
Another apple flavor wasn't in the plans for this fall, but in my quest to get my son a healthy snack – apples and peanut butter came into the fray.  Almost instantly he and my wife turned to me and said – "this should be an ice cream flavor".  They were right.  Shall we?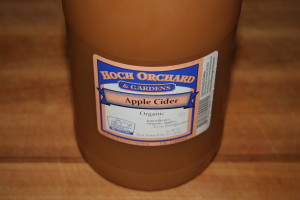 For this flavor, I chose to bypass whole apples, in favor of Apple Cider.  I've already hinted at my fandom of Hoch's apples, and their cider is coming from high quality apples which means it's hard to go wrong.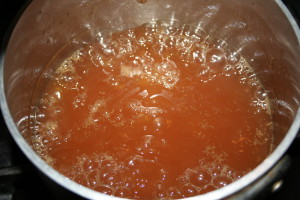 The challenge of this particular ice cream flavor was making an apple flavored ice cream without fruit in it.  To accomplish that goal, cider was reduced with sugar to provide both the tart apple flavor and the sugar source for the cream base.
I chose a fantastic natural peanut butter to swirl into the cream, but it was too oily and thick to go into the ice cream base on its own.  The peanut butter was combined with cream and a little bit of sugar to thin it out a bit and make a peanut butter sauce to be swirled into the cream base.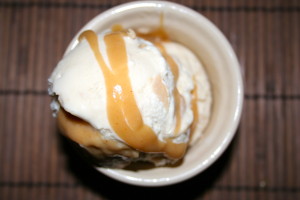 Pretty straightforward really, but bursting with flavor.  Tart apple ice cream swirled with ribbons of salty natural peanut butter.  Evoking the very snack we all knew and loved as kids – and probably as adults too.
Want to try it? You can win one of the only two pints in the world, filled with this fabulous, scratch made craft ice cream in our weekly pint giveaway. Enter your name in the comments section here, or on our facebook page under the posted contest. 2 lucky winners will be drawn randomly on Friday 10/18/13 at 4pm. Winners must be able to pick up locally and give us feedback. Pints must be claimed by email within one week or we will redistribute. 🙂 Good luck!