As I always do, I made my wife her much anticipated birthday carrot cake recently. We were digging in, and she said, "You should do a carrot blueberry flavor". I may have brushed off the idea initially, but then I plated up a few pieces the next day on top of some blueberry jam and a scoop of our Sage Blueberry ice cream…bliss. The combo was amazing; in cake and jam form at least, so I set out to test the combo in true ice cream form. And, this week's flavor was born – Blueberry Carrot with Pecan Jam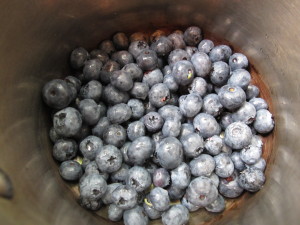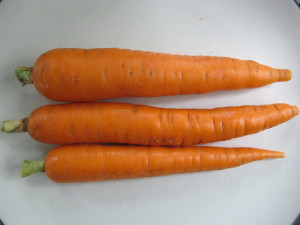 Blueberries and carrots. Simple things grown and tended by the hands of hard working farmers right here in Minnesota. It's these simple things that taste as they should when grown in our backyards and eaten in season. If there is one thing I know for sure, it's that the quality and flavor of our ice cream screams off the charts during the local growing season when we have such a bounty to choose from. These simple things, they're going in our ice cream.
For the blueberries, they're mashed with a splash of lemon juice and reduced to a jam with cane sugar. The carrots are sliced, tossed with butter, and roasted in the oven until roasty toasty and slightly browned. Both the roasted carrots and blueberry jam are pureed in a blender and added to our ice cream base. For this flavor, we're using cane sugar, but to keep the flavors consistent with our initial carrot cake combo, we added sour cream to the base to emulate the flavor of cream cheese, just like in the cakes frosting. The sour cream blueberry carrot ice cream base is pasteurized, cooled and is ready to churn.
The pecan jam was kind of an afterthought, but it pairs really nicely. We could put pecans in any flavor of ice cream and they would probably be great, in my opinion, but I did want to stay with the carrot cake theme here, and pecans are a fundamental piece. For the jam, pecans are chopped and simmered down with brown sugar, honey, water, and then finished with a pinch of cinnamon and Maldon sea salt. The jam is cooled and is layered into the pints during the packaging process.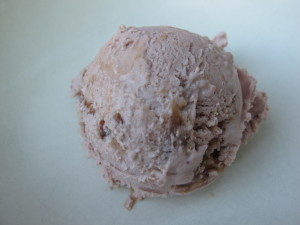 Success! A velvety blend of blueberries, carrots and cream cheese to make the perfect scoop along with the addition of a gooey layer of jam made from pecans, honey and a hint of cinnamon. Raise a scoop to my wife; it was a great idea, happy birthday!
Blueberry Carrot with Pecan Jam
Blueberry Jam:
1 cup Blueberries
1/2 Lemon, juiced, seeds removed
1/4 cup + 2 Tablespoons Cane Sugar
Roasted Carrots:
1-2 Carrots, medium, 1/4″ slices
1 Tablespoon Butter, melted
Ice Cream Base:
2 cups Heavy Cream
1/2 cup Milk
1/2 cup Sour Cream
1/2 cup Cane Sugar
2 Eggs
3/4 teaspoon Sea salt
Blueberry Carrot puree
Pecan Jam:
1/2 Cup Pecans
1/4 cup + 2 Tablespoons Brown Sugar
1/4 Cup Water
1/4 Cup Honey
1/4 teaspoon Cinnamon
1/8 teaspoon Sea Salt, Maldon
Instructions:
1. Make blueberry jam: Place a plate in the freezer. Place blueberries in medium sauce pan. Using a potato masher, crush blueberries (leave some whole). Add lemon juice and sugar, and bring to a boil over high heat, stirring frequently. Cook and stir until bubbles subside and jam appears slightly thickened, about 15 minutes. To test doneness, spoon a small amount onto the chilled plate. If jam wrinkles when you push your finger into it, it is done. If not, cook and stir a little longer before testing again. Let cool; reserve.
2. Make Roasted Carrots: Preheat oven to 350 degrees. Toss carrots with melted butter and roast for 15 minutes. Stir carrots and roast for 15 minutes. Remove from oven and cool; reserve.
3. Make ice cream base: Crack eggs into a mixing bowl and whisk fully.  Add cane sugar and whisk.  Add heavy cream, sour cream, and salt.  Whisk until ingredients are combined. In a blender or food processor puree reserved blueberry jam and roasted carrots. Add milk and process smooth. Add blueberry/carrot puree to ice cream base and whisk to combine.
4. Cook/pasteurize ice cream base: Over medium heat, whisk or stir base continuously until temperature reaches 165-170 degrees.  Remove from heat. Cool ice cream base to room temperature (an ice bath will do this in about 15-20 minutes). Cover base, and chill in refrigerator overnight.
5. Make Pecan Jam: Chop pecans into small pieces. In a sauce pan bring chopped pecans, brown sugar, water, and honey to a boil. Simmer for 5 minutes or until jam like consistency is achieved. The cold plate test is a good indicator. Remove from heat and stir in cinnamon and sea salt. Cool, refrigerate in air tight container, and reserve until packaging.
6. Churn ice cream base in ice cream machine according to manufacturer's instructions. Layer in pecan jam while packaging in air tight storage container, then store in freezer until chow time.
*Yields approximately 2.5 pints
If you'd rather not make it, you can be one of two lucky winners of this fabulous, scratch made craft ice cream in our weekly pint giveaway. Enter your name in the comments section here, or on our facebook page under the posted contest. Two winners will be drawn randomly on Friday 8/14/15 at 4pm. Winners must be able to pick up locally in Minneapolis. Prizes must be claimed by email within one week or we will redistribute. 🙂 Good luck!