Happy Thanksgiving y'all! It's finally upon us, and through all it's traditions, the one that we'd like to focus on is the Fall harvest. After kicking off the pre-Thanksgiving party with our Roasted Pecan with Pumpkin Caramel, we couldn't think of a more festive and appropriate ingredient for this weeks flavor than cranberries. Add apples to the mix, a little cognac for good cheer, and we're talk'in Thanksgiving flavor of the week: Cranberry w/ Apple Apple Cider Cognac Caramel. Let's get it started…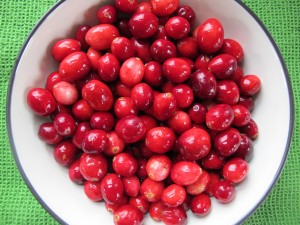 Cranberries! These are organic cranberries from James Lake Farms in Wisconsin Rapids, WI. Just the site of this bowl of berries can get you jammin right into the holiday spirit.
We've never made an actual cranberry flavored ice cream, so  it seemed fitting that today be the day to make that happen.
Cranberries, like many other fruits and berries pose the ever occurring obstacle in ice cream: their water content can make the ice cream icy, unless manipulated in some way.
If you actually read this blog, you'll know that we sound like a broken record with our talk of water content in fruits going into our ice cream. Good thing is, you're still reading.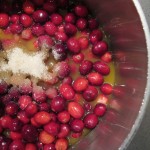 To counter the water content issue, we decided to make a chutney. We started it out with our berries, a mix of sugars, orange juice, and cognac.
The mixture gets simmered down, the cranberries pop, and eventually the chutney comes alive…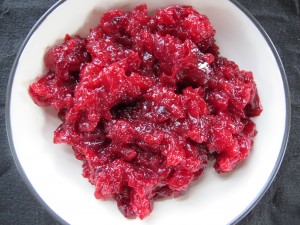 Bang-go! Vibrant, tart and toothsome cranberry chutney. We add the chutney into our ice cream base that we mixed with both cane and brown sugars.
Some of you may have read the title to this weeks flavor and thought, "dudes, typo…you totally put two "Apple(s)" in there".  Yeah, well, that's pretty much what we did. The first of which are actual apples, diced, tossed with cinnamon and brown sugar, and then slowly roasted in the oven until candied and caramelly. In the end, we add these tiny apple chunkers to our other "apple", the apple cider cognac caramel.
If you're looking for an easy apple cider caramel sauce recipe, check out this one from The Cafe Sucre Farine blog. We adapted it to work in our ice cream, but the original is fantastic and explains the process well.
The two main players go head to head. Hoch Orchard organic apple cider, located right here in Minnesota along with Courvoisier Cognac.
After the caramel comes off the heat, we added in a little more Cognac to really bring out those brandy flavors and thin it out. The caramel provides a tart cider flavor that will undoubtedly pair well with the cranberry ice cream.
Our tiny roasted apple chunkers get added to the caramel and then layered into the ice cream during packaging.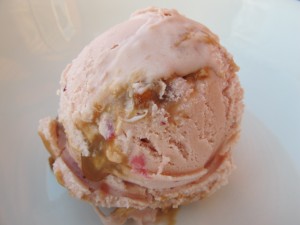 The result is a sweet cranberry ice cream with a tart apple apple cider cognac caramel that characterizes the Fall harvest and gives us much to be thankful for. Cheers!
You can win one of the only two pints in the world, filled with this fabulous, scratch made craft ice cream in our weekly pint giveaway. Enter your name in the comments section here, or on our facebook page under the posted contest.  2 lucky winners will be drawn randomly on Friday 11/23 at 4pm.  Winners must be able to pick up locally and give us feedback. Pints must be claimed by email within one week or we will redistribute. 🙂 Good luck!