Long before our ice cream days began, us Broz spent much of our time scheming about BBQ and hanging around grills and smokers.  To this day we both remain grilling fanatics and our love for all things cooked over a fire often finds its way into our flavor development.  Every year when apple season rolls around we challenge ourselves to come up with new ways to incorporate apples into our ice cream.  This week's flavor found us back at the smoker – stripping things down to our basic first apple flavor but adding one new dimension – applewood smoke.
These gorgeous local honeycrisp apples (my personal favorite variety)  are diced, tossed in butter, brown sugar and cinnamon and then smoked over applewood for around an hour.  This process closely resembles our typical roasting of the apples for incorporating into ice cream, but we've added the smoke to the process which gives them a very distinct, smokey flavor.
Since we're already using smoked apples, it only seemed right to flavor the cream with our signature charred vanilla.  The vanilla beans are also smoked over applewood until crispy and then ground whole into a fine powder and infused into the cream. These work as a great substitute for vanilla in any recipe.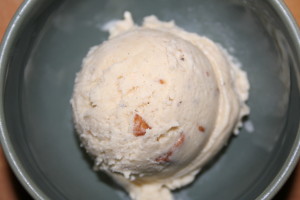 The scoop is nothing short of harmonious, especially if you're a fan of apples, vanilla and things cooked over open fire.  An in-your- face charred vanilla ice cream decorated with chewy chunks of smoked honeycrisp apples.
Smoked Apple Ice Cream Recipe
(makes approx 1-1/2 quarts)
Ingredients:
2C Heavy Cream
1C Milk (use any fat percentage you prefer – higher lends to a creamier base)
2 Eggs
3/4C Sugar
1 Whole Charred Vanilla bean, ground
2 apples cored, peeled and diced into 1/2″ chunks
1 Tablespoon butter, melted
1/4 Cup Brown Sugar
1/2 tsp cinnamon
1/2 tsp salt
Instructions
Prep apples and vanilla:
Preheat grill/smoker to 250-275 degrees
Mix together the brown sugar, cinnamon and butter in a bowl and toss apples in mixture until well coated.  Spread the apples out on sheet pan in one layer and place over indirect heat in smoker/grill.  Place vanilla beans also over the indirect heat.  Smoke apples and vanilla for approximately one hour until apples have shrunk but not completely dried up.  Vanilla beans will dry out and become hard and brittle.  Let apples cool, then set aside and chill until ready to add into ice cream.  Set vanilla beans aside until you are ready to make ice cream base.
When you're ready to make the ice cream base, grind the beans in a coffee or spice grinder until they are a fine powder.  Crack eggs into a mixing bowl and whisk fully. Add charred vanilla powder and sugar to eggs and whisk until all are combined well. Add cream, milk,  salt and whisk again until all are fully incorporated.  Place the ice cream mix in heavy pot and cook over medium heat, stirring continuously.  Heat ice cream mixture until temperature reaches 165 degrees. Remove from heat.  Cool the ice cream base to room temperature (an ice bath will do this in about 15-20 minutes).   Once cool, place ice cream mix in a container, cover, and chill in refrigerator overnight.
Churn ice cream base in ice cream machine according to manufacturer's instructions. Add smoked apples in during the last 5 minutes of churning the ice cream. Freeze in a tightly covered container for at least 4 hours, preferably overnight if you can wait.  Then, enjoy!
*Yields approximately 2.5 pints of ice cream.
If you'd rather not make it, you can be one of two lucky winners of this fabulous, scratch made craft ice cream in our weekly pint giveaway. Enter your name in the comments section here, or on our facebook page under the posted contest. Two winners will be drawn randomly on Friday 10/2/15 at 4pm. Winners must be able to pick up locally in Minneapolis. Prizes must be claimed by email within one week or we will redistribute. 🙂 Good luck!