Our friend Heidi Skoog recently picked up a windfall of black currants from the amazing Blue Fruit Farm in Winona, MN.  They literally live up to their name by only growing blue fruits.  How cool is that?    Definitely a place worth visiting for their exotic varieties of berries, including these black currants.  I'll be honest, I've never had a black currant that wasn't dried before, and the fresh black currant is one of the most unique tasting berries I've come across.  Slightly smoky in flavor, they are almost more savory than sweet.  I couldn't have been more excited to make ice cream with them.  For a twist, why not throw in a little Cassis and some black pepper?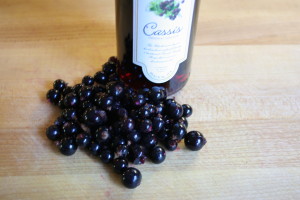 The flavor begins by making a jam out of the currants.  Its the same jam process we use for everything and in this case will also provide the bulk of the sweetness for the ice cream.  Cassis, a black currant liqueur, is added in once the jam is cooled (so as not to lose the flavor) to give it even more dimension.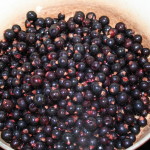 To make the ice cream, we start with a simple cream base but use only a fraction of the sugar we typically do because the black currant jam is already sweet.  The jam is blended directly into the base and gives it a beautiful purplish hue. Fresh cracked black pepper is added while the base is cooked, to infuse a subtle bite into the currant-y cream.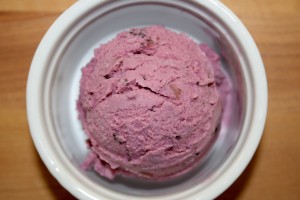 The scoop is a wondefully complex black currant cassis ice cream with a little bite of black pepper.
Black Currant Cassis w/ Black Pepper Ice Cream
Black Currant Cassis jam ingredients:
1 pint black currants (about 1/2 pound)
1 Cup  sugar
2 1/2 teaspoons lemon juice
1 tablespoon of Cassis liqueur
Ice Cream ingredients:
1 Cup of Milk (whatever fat percentage you prefer)
2 Cups of Heavy Cream
1/2 Cup of sugar
1 Cup of Currant Cassis Jam
1/4 tsp of freshly ground black pepper
Instructions for the Jam: Place a plate in the freezer (this will come in handy in a bit). In a medium saucepan combine the currants and lemon juice. Let stand for 15 minutes, stirring occasionally. Stir in sugar. Bring mixture to a boil over high heat, stirring frequently. Cook and stir the mix until the bubbles subside and the jam appears slightly thickened, somewhere around 15 minutes. To test for doneness, spoon a small amount onto the chilled plate. If jam is gooey and wrinkles when you push your finger into it, it is done.  This means it will not be icy in the cream which you do not want.  If not, cook and stir a little longer before testing again. Let cool; then add cassis and black pepper when jam is cool.  Cover and chill completely until you are ready to make the ice cream.
Instructions for ice cream: Crack eggs into a mixing bowl and whisk fully.  Add sugar and currant jam and whisk until fully combined.  Add heavy cream, milk, and salt.  Whisk again until all ingredients are fully blended.  Base will take on the bluish purple color of the currants.
Over medium heat, whisk or stir base continuously. Keep stirring continuously until temperature reaches 165-170 degrees.  Remove from heat. Cool ice cream base to room temperature (an ice bath will do this in about 15-20 minutes).  Put base in a clean container, cover, and chill in refrigerator overnight.
5. Churn ice cream base in ice cream machine according to manufacturer's instructions. Place ice cream is in freezer proof storage container and store ice cream for at least 3 hours, preferably overnight if you can wait.
*Yields approximately 2.5 pints
If you'd rather not make it, you can be one of two lucky winners of this fabulous, scratch made craft ice cream in our weekly pint giveaway. Enter your name in the comments section here, or on our facebook page under the posted contest. Two winners will be drawn randomly on Friday 7/24/15 at 4pm. Winners must be able to pick up locally in Minneapolis. Prizes must be claimed by email within one week or we will redistribute. 🙂 Good luck!