For those of you who actually read our flavor explorations and how we go about our processes, you likely know that we coin a good ol' frozbroz flavor brainstorming session as a  "flavor storm". During one of these recent flavor storming sessions, the topic of buttermilk buscuits came up. It came naturally, as we love playing around with breads, doughs, and of course, extra dairy in our ice cream. So with buttermilk buscuits on the brain, the beginning of a flavor was born. To top it off, we just recenetly broke down a batch of ground cherry jam with fresh ground cherries from the magnificant Bossy Acers. First of all, who doesn't like buscuits and jam? It turned into a no brainer. I mean, ground cherry jam in ice cream pretty much makes for an automatic 5 stars, but add in the buttermilk buscuits – now we're elevating this concept to an off the charts scenrio. Let's get it started with this week's flavor: Buttermilk Buscuit with Ground Cherry Jam.
We've never actually made buttermilk buscuits before, and I am sure that we have a lot to learn, but for first-timers, these buscuits couldn't have turned out any better for our purposes. After doing a little recipe research, it seemed the proven method was to use a food processor for the job. We found out that the key to great buttermilk buscuits is agitating the dough as little as possible, and the processor allows for that by doing the mixing with just a few pulses. And that's just what we did…first, pulsing the butter, flour, leveners, and salt. Next, pulsing in our organic buttermilk from Kalona, IA. Then, it's a gentle pat down of the dough before cutting and baking off in the oven on a sheet pan. That's it! Buttermilk buscuits! But actually, that's not it. We're not done with them yet.
We can't just throw buscuits into our ice cream. We could, but that's just not our style. We talk a lot about textures in our ice cream, and although the concept of soft buscuits has potential to be texturally pleasing, we made the decision to make the buscuits crunchy to add contrast. To do this, we cut our buscuits into croutons, toss with a little butter, and into the oven to become condensed, salty, buttermilk buscuit crunchers. Trust us, it was worth the extra effort. These crunchers are tossed in to our organic cane sugar base at the end of the churn.
And then…these!  Beautiful fresh ground cherries from our local farmers, Bossy Acres. We've said it before, and we will most certainly say it again – it is of uttmost impotantance for all of us to support our local farmers. I'm not sure I could explain it any better than the ladies at Bossy Acres, so click HERE for a great explanation of what supporting local means for all of us – our community. Back to the ice cream…Ground Cherries! After the very laborious task of peeling off the outer wrapper of the ground cherries, we mash them, and cook them down with a bit of sugar until we have our jam – liquid gold. The ground cherry jam is layered into the pints during packagaing.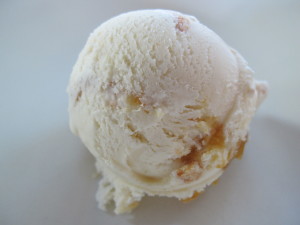 The result is our rich creamy ice cream packed with crunchy salted buttermilk buscuit croutons all layered with Minnesota-grown ground cherry jam. It's just another flavor storm concept that's been elevated to an off the charts scenerio.
Want to try it? You can win one of the only two pints in the world, filled with this fabulous, scratch made craft ice cream in our weekly pint giveaway. Enter your name in the comments section here, or on our facebook page under the posted contest. 2 lucky winners will be drawn randomly on Friday 10/11/13 at 4pm. Winners must be able to pick up locally and give us feedback. Pints must be claimed by email within one week or we will redistribute. 🙂 Good luck!