Among all of the flavors we've made, this remains among the top.  We consider it to be one of our banner flavors, and tends to come up anytime we are asked what our favorites are.  Since this full recipe has been featured in Metro magazine's march issue (see the whole process and get the recipe here), I'm not going to spend too much time reiterating it.
I will talk about McCann farm eggs which came our way through our friend Heidi Skoog (of Bastian+Skoog and Serious Jam).  These beautiful eggs (which look like they've already been colored for Easter) exemplify the reasons why we love working with local farmers and why we think natural and responsible farming is the only way.
The eggs have great flavor, great texture and their color are perfect representations of the importance of raising animals to be happy.  All of our ice cream includes eggs, and we were thrilled to have these for this batch.
The ice cream flavor itself was inspired through a southern kick I was on, stemming both from eating experiences I enjoyed with my in-laws in the blue hills of Virginia, as well as some of the great southern cooks like Frank Stitt that I stumbled upon during my obsession with southern cooking.  Cornbread is a staple of the south, and I originally made it to pair with smoked pork butt.  Turns out, it pairs well with absolutely anything, as cornbread is wont to do.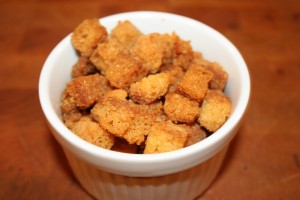 These crunchy cornbread croutons turn candy-like when suspended in the cream, and sing when accompanied by a little (or maybe a lot) of brown butter.  We tend to develop flavors to be very forward, very "in-your-face" and this was one of the first that blazed the trail.
And in this case, as with all of our ice cream, its made with eggs from happy chickens, cream and butter from happy cows, and wait, did we mention happy farmers?  All part of the equation.
This flavor is one of a handful that we are offering in the perks on our Indiegogo campaign.  It will certainly be one of our mainstay flavors as we begin production.  Help us out with a contribution and you be one of the first to ever have it.  Or, be a lucky winner in this weeks giveaway and try it that way.  Or better yet – BOTH!  Please help us keep traffic going to the Indiegogo page- having our fans help us keep the visits to the page helps keep us as a featured project on Indiegogo, which will help us meet our funding goal.
RIGHT HERE! BROWN BUTTER CORNBREAD ICE CREAM!
As we do every week, we'll be giving away two pints of this flavor. Just leave a comment on our facebook page to be entered into the drawing. If you don't have a facebook account, leave a comment right here on the blog. We'll draw two winners on Friday afternoon (4/6/2012) at 4pm and will announce them on our facebook page (or email you if you're comment resides here). Our only conditions are you must be able to pick it up here in Minneapolis, and be willing to give us a little feedback that can be shared with everyone else. Good luck! Also – again, please don't forget about our Indiegogo fundraising – we've at the halfway pointdays and need all the help we can get! http://www.indiegogo.com/frozbroz?a=446076