We're nearing the end of the summer harvest which means a scramble to get our hands on all the local produce we can and figure out ways to use it.  We've been scheming on root vegetables for awhile, and experimented a bit, but this flavor crosses into new territory for us.  We stretched our legs, and gave it a hint of spice from one of the hottest peppers you can get your mitts on, and added a nice chocolate ganache swirl for kicks.
Beets are plentiful at the farmers markets, and we picked some up from our neighborhood favorite – (Midtown Farmers Market).
Coincidentally, I happened across a pile of these beautiful habaneros as well.  The flavor of the habanero pepper is often overlooked because they are so hot, but if the seeds are removed they can be very tolerable in small amounts.  The red pigment and sweetness of the beet, along with the heat of the habanero seemed to be the perfect one-two pair.  After all, red means HOT right?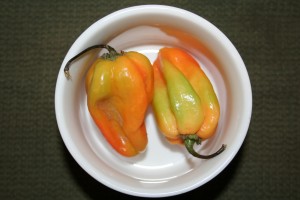 The ice cream was a 3 step process.  First, the beets were pureed with a little bit of water to bring the juice out of them.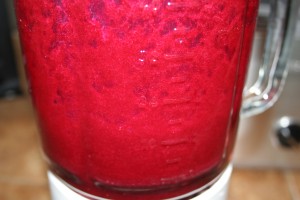 Damn if that color isn't gorgeous.
After pureed, we strain out the pulp and reserve the juice to reduce into a syrup.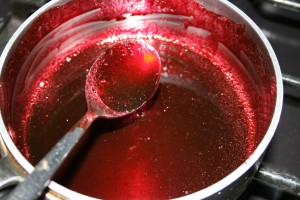 I think I accidentally discovered a recipe for fake blood in this process. But I digress..
For this flavor, we use our sour cream ice cream base since it pairs so well with beets and pepper everywhere else.  While the beet juice cooks down, we take the reserved pulp along with the (1) seeded habanero pepper and steep them in the hot ice cream mix, then strain again at the end.  This process allows us to keep the starchy/grainy vegetable out of the end product, but maximize the beet flavor and retain some of the heat of the pepper without making the ice cream an endurance/sanity contest. The heat ends up being incredibly subtle and tolerable even to my 4 year old son.  Yes it could certainly be hotter.
Finally, the scratch made chocolate ganache, is added in to the ice cream as a swirl for an extra twist.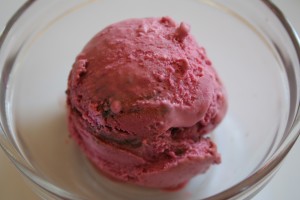 There you have it. Beet Sour Cream Habanero with Chocolate Swirl Ice Cream.  A beet and habenero infused sour cream ice cream with little ribbons of chocolate ganache.  The beet provides a unique earthy sweetness which goes great with the hint of chocolate and ends with a nice bit of heat on the back of your palette.
If you're interested in trying –
Every week, we give two pints away of our new flavor in a random drawing. To enter, leave a comment on our facebook page or, leave a comment right here on the blog. We'll draw two winners on Friday afternoon (9/7/2012) at 4pm and will announce them on our facebook page (or email you if you're comment resides here). Our only conditions are you must be able to pick it up here in Minneapolis, and agree to give us a little feedback that can be shared with everyone else. Good luck!