If you like to cook, there's a good chance you have a favorite cookbook. For me, one that I regularly turn to for recipes and ideas is "A Mediterranean Feast" by Clifford A. Wright. The book encompasses the evolution of Mediterranean cuisines and their history of origin. It's a learning experience every time I open it up. A few years back a came across a recipe in the book that called for orange blossom water. It was something I had never worked with, but sparked my interest. Fast forward to a few months ago…I decided to purchase a bottle. Over the recent Easter weekend, I broke it out. My wife made an almond cake for our Spring feast, and I decided to make an orange blossom syrup to set the cake on and soak up. The combo was fantastic! The floral tones of the orange blossom syrup made for the perfect seasonal dessert. Pure inspiration for this week's flavor – Almond with Orange Blossom Syrup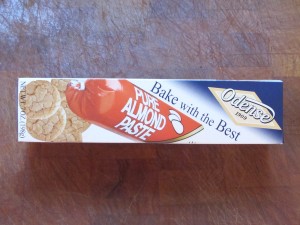 This is almond paste. Sometimes it comes in a can and sometimes it comes in a tube. Either way, it's pretty delish. The cake my wife made called for a lot of almond paste, so that's what  I went with to make my ice cream base. I dissolved the paste into our standard organic cane sugar base during the cooking process. After a brief steep, the paste is strained through a fine mesh strainer to remove any gritty solids. The base is salted, cooled and ready to churn.
Next, the orange blossom syrup. The orange blossom water, as you might expect, tastes almost as a sweet flower blossom would smell. To offset the floral tones a bit, I decided to add a little lemon juice and lemon zest to the syrup. The syrup is simple, as they say…water and cane sugar boiled/reduced to the proper temperature. We finish the syrup by adding in our orange blossom water and straining out the lemon zest. The syrup is cooled and ready to layer into the almond ice cream during packaging.
Serious goodness here people. It's a dense silky almond ice cream with pockets of sweet floral tones from the orange blossom syrup. It almost makes you feel as if Spring is in the air.
Like to try some? You can be one of two lucky winners of this fantastic, scratch made craft ice cream in our weekly pint giveaway. Enter your name in the comments section here, or on our facebook page under the posted contest. Winners will be drawn randomly on Friday 5/9/14 at 4pm. Winners must be able to pick up locally. Prizes must be claimed by email within one week or we will redistribute. 🙂 Good luck!