Ok, so it's March here in Minnesota and this is where the winter starts really dragging arrss. Fortunately, at the end of January I was able to break up the monotony of winter on a family trip to Mexico. It was there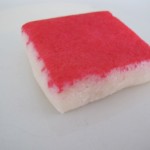 that my sister-in-law purchased one of these coconut bars from the local grocery. I love coconut, so this bar was absolutely aaamaaazing! It's ingredients: coconut, sweetened condensed milk, and sugar. Simple. Don't ask what the pink stuff is on top, but the bar itself, is basically a bar version of a macaroon. The coconut is ground, so the texture ends up being chewy and much less course than a macaroon. It's everything a coconut lover wants their coconut to be. And this is just the inspiration needed for this weeks flavor: Coconut Bar Banana Caramel. Lets do this…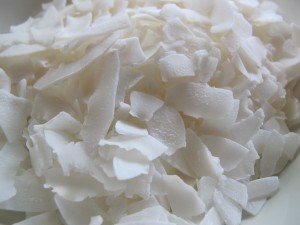 In keeping with the simplicity of the original coconut bar, we stuck with plain unsweetened coconut and sweetened condensed milk. They both get pulverized in the food processor.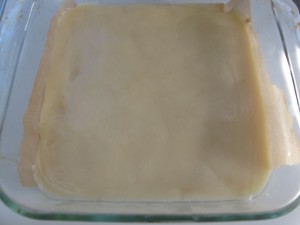 Next, the coconut mixture is pressed into a glass baking dish lined with parchment and baked at a low temperature. Once out of the oven, we puree lime zest and cane sugar in the food processor. The lime sugar is sprinkled over the top of the bars and brûléed with a torch. These bars? These ones are good. Really good! They get chopped up and added into our plain sugar cane ice cream base. Did I mention that we're gonna add a banana caramel to this thing? Well, we are.
Time to work on the banana caramel. Yes, the banana pictured above doesn't look that appealing, but it has more flavor than any good-looking banana I've ever tasted. It's actually an overly ripe banana that has been preserved in the freezer. I throw all of our over-ripe bananas in the freeze and they are fantastic for smoothies, banana bread, or any other baking recipe. The bananas get sliced, placed on parchment, and slowly roasted in a low heat oven.
When they come out, we're left with beautiful caramelized bananas that have lost much of their moisture content, but have retained all of their natural sugars and flavor. We make a traditional caramel by boiling granulated sugar. The caramel is finished with cream, and the bananas are added in after getting mashed, making for banana caramel ridiculousness. It's just a lovely caramel. Banana caramel. Hot! It gets layered into the pints during packaging.
And here it is! Coconut Bar Banana Caramel! Just enough to make you forget that it's STILL winter here in Minnesota, and enough to have you start thinking about eating ice cream dripping down your face in the months to come.
Want to try it? You can win one of the only two pints in the world, filled with this fabulous, scratch made craft ice cream in our weekly pint giveaway. Enter your name in the comments section here, or on our facebook page under the posted contest. 2 lucky winners will be drawn randomly on Friday 3/15 at 4pm. Winners must be able to pick up locally and give us feedback. Pints must be claimed by email within one week or we will redistribute. 🙂 Good luck!