Although you may not able to tell by the weather we've been having this year, it is actually Spring in Minnesota. Whatever the temperatures are, it doesn't matter, it's time to celebrate the beginning of the new growing season. And to start it all off, one of the first things out of the ground every spring is the beloved rhubarb. So let's get this celebration started with this week's flavor: Rhubarb with Brandy Orange Caramel.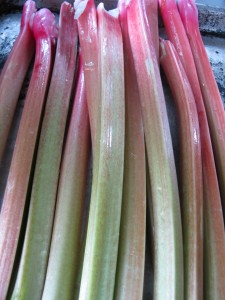 This is heirloom rhubarb. The original plant started on my wife's grandparents farm near Milwaukee, WI. It's been split many times, but I have to say, this plant likes to get crazy in our yard, and if left alone would grow upwards of four to five feet in height. We twist and pull out the younger stalks for cooking.
We first puree the rhubarb completely. So you're probably wondering why the puree is green and not pink in color? For the ice cream, I decided to peal the rhubarb first, to eliminate the posibility of retaining any stringing fiberous material. Because the puree will eventually end up in the ice cream, I wanted to make sure that fiberous material didn't affect texture. In hind site, it didn't matter, because we processed it fully, but I assure you, this green puree has evey bit of rhubard flavor. The puree goes into a sauce pan and is reduced with a squeeze of lemon juice until nearly all the liquid has boiled off. At this point, we set the puree in a fine mesh strainer and allow it to drain any left over liquid. Any residual liquid could potentially make this an icy rhubarb ice cream instead of a creamy one. The finished/drained puree is added into our organic cane sugar ice cream base.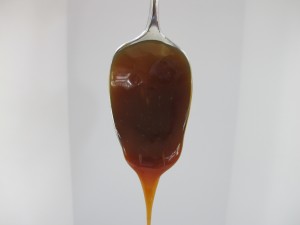 For the caramel, as we almost always do, we start by caramelzing plain white sugar over high heat. Once caramelized, we whisk in our cream. And since we're celebrating the beginning of the growing season, I thought we should probably throw in a party favor. Citrus and rhubarb are a classic combination, which gave way to exactly what party favor to use? Another classic combo – brandy and orange. And so it goes. We finish the caramel with brandy, orange zest and a generous salting.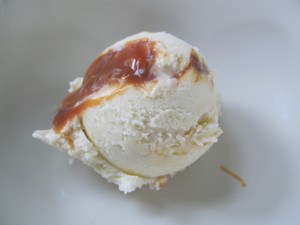 Creamy rhubarb ice cream layered with a zesty brandy orange caramel. Let's tip our glasses and celebrate the beginning of Minnesota's growing season, FrozBroz style!
Want to try it? You can win one of the only two pints in the world, filled with this fabulous, scratch made craft ice cream in our weekly pint giveaway. Enter your name in the comments section here, or on our facebook page under the posted contest. 2 lucky winners will be drawn randomly on Friday 6/7/13 at 4pm. Winners must be able to pick up locally and give us feedback. Pints must be claimed by email within one week or we will redistribute. 🙂 Good luck!