The past few weekly flavors have been inspired by delusions of beaches and warmer weather; happy thoughts to escape the harsh reality of our midwestern winter.  While my frozen counterpart enjoys a nice warm weather vacation this week, I remain in the Cities, proudly and hatefully enduring sub zero temperatures which will only harden me and make me enjoy 30 degrees for the remainder of the winter so much more (right?).
This flavor represents the true meaning of Nordic endurance: pure indulgence that only a deep winter freeze can truly incite – something to dull the pain of frostbite, lack of sun and society.  Specifically important keys to this equation: Chocolate and Booze.
Background: A few years ago my Pops clued me in to one of his favorite new dessert finds, the Georgia Walnut Pie at the Harbor View Cafe in Pepin, Wisconsin.  Being the fiend for pecan pie that I am, a new nutty pie treat piqued my interest.  The Georgia Walnut pie is an incredibly rich concoction of chocolate, walnuts, cinnamon and butter – a chorus of flavors that will melt the elastic in your socks and cause momentary amnesia.  As soon as I had it, I knew it was an ice cream flavor.  Add in a last minute improv of bourbon and you've suddenly created the perfect company for your January misery.  Typically we tell people that our ice cream isn't meant for large quantities because we don't cut corners when it comes to sugar and fat.  For this week, all bets are off.
To bring this flavor full circle I chose to create a Bourbon Walnut jam of sorts, by slowly reducing crushed walnuts with brown sugar and water until the flavor of the walnuts is infused into a thick – jam like reduction.  It looks like a caramel because of the color from the brown sugar, but the sugar is never cooked to a point where it technically caramelizes.  What you end up with is Jam.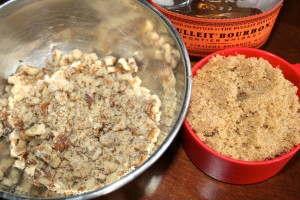 The bourbon finishes it off to give it a well rounded kick.  Or maybe a roundhouse kick.  You decide.
The ice cream base is essentially our 3x Chocolate spiced with Cassia Cinnaomon.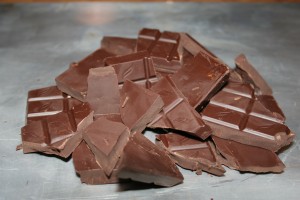 The ice cream is churned and the Bourbon Walnut Jam is layered and rippled throughout the pint.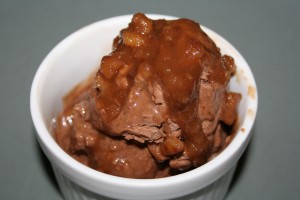 You can win one of the only two pints in the world, filled with this fabulous, scratch made craft ice cream in our weekly pint giveaway. Enter your name in the comments section here, or on our facebook page under the posted contest.  2 lucky winners will be drawn randomly on Friday 1/25 at 4pm.  Winners must be able to pick up locally and give us feedback. Pints must be claimed by email within one week or we will redistribute. 🙂 Good luck!