Alright. As of last week we were just getting started with this whole Holiday thing. This week, its full immersion.  Christmas trees up and decorated. Lights shining, Christmas music – the whole deal.  Which means we are also in full swing on the holiday flavors here in ice cream land.  This week flavor was more of a smattering of things that associate so well with this time of year: oranges cloves and cranberries – all of which combined into something pretty fantastic with a little cream and sugar.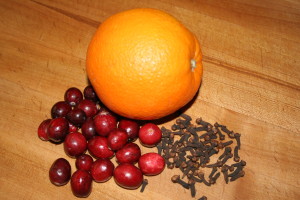 All pretty nifty ingredients on their own, each with a significant role in holiday dishes, and awfully pretty together too.
To kick things off, the cranberries were cooked down with some orange juice and sugar to form a nice jam.  As a finishing touch, we added a titch of vanilla.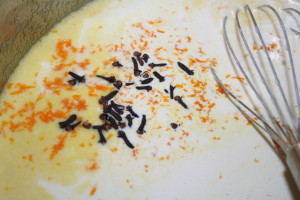 For the ice cream base, we started with our standard sweet cream and steeped it with cloves, and orange zest.  The jam was layered in as the ice cream was packed into the pint.
The end result is one purdy scoop.  A delicate orange and clove scented ice cream, with swirls of vanilla orange cranberry jam.
You can be one of two lucky winners of this fabulous, scratch made craft ice cream in our weekly pint giveaway. Enter your name in the comments section here, or on our facebook page under the posted contest. Two winners will be drawn randomly on Friday 12/11/14 at 4pm. Winners must be able to pick up locally. Prizes must be claimed by email within one week or we will redistribute. 🙂 Good luck!