Happy new year, guys! It's January 2014, which means a lot to us at FrozBroz. It means that our ice cream will officially be for sale this month. Stay tuned in the coming weeks for announcments regarding this exciting new time for our ice cream's existence.
As for this week, we're dropping another bit of FrozBroz nostalgia. We all have memories of friends coming over to play after school, and likely your parents whipped up something for you and your friends to eat or snack on, just as mine did. It's possible we all share this same bit of nostalgia. For me, one of the most memerable lunch/snacks  my mother ever put in front of me was a peanut butter and banana sandwich. She always served it open faced – white bread, creamy peanut butter, and thick banana slices. So successful that my friends who were over, loved it as much as I did. So successful, that this week, I'm going to put the peanut butter and bananas in our ice cream. It's a classic combination, and one that is close to me. Let's get 2014 kicked off right, with this week's flavor: Peanut Butter with Roasted Bananas.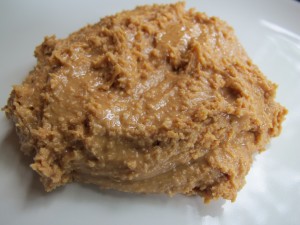 I flip-flopped a lot before deciding which part of this flavor should be the ice cream; peanut buter or banana? Ultimately, I decided that a peanut butter ice cream would probably go over better, as most of you that follow us Broz, are peanut butter freaks. For the ice cream base, we use fresh ground peanut butter ground at the Seward Co-op. The peanut butter is added to our pure sugar cane base, cooked, and then strained through a fine mesh strainer. The base is salted and is ready to churn.
FYI, to let you in on a little secret…someone's grinding up fresh ground artisinal peanut butters to sell over at our new kitchen space, CityFoodStudio. Keep your eyes peeled.
Speaking of peeled, let's talk roasted bananas. Again, as we always talk the talk, we work to decrease the water content of our fruit and increase natural sugars to reduce iciness in the ice cream. These very not local bananas are sliced and roasted in the oven on parchment until caramelly. Their flavors are concentrated and ready to be added into our peanut butter ice cream at the end of the churn.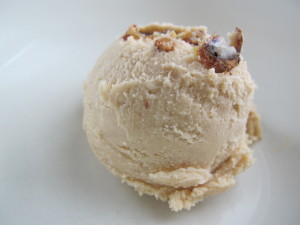 Peanut Butter with Roasted Bananas! Brining in the new year with some FrozBroz nostalgia.
Like to try some? You can win one of the only two pints in the world, filled with this fabulous, scratch made craft ice cream in our weekly pint giveaway. Enter your name in the comments section here, or on our facebook page under the posted contest. 2 lucky winners will be drawn randomly on Friday 1/3/14 at 4pm. Winners must be able to pick up locally and give us feedback. Pints must be claimed by email within one week or we will redistribute. 🙂 Good luck!