We've been enjoying variations of sweet corn ice cream in the month of August for quite awhile, and have no plans on ending that tryst anytime soon.  Its definitely a flavor of ice cream that has caught on in recent years and when you have a good source for sweet corn, it pairs well with almost anything.  We happen to be huge fans of the sweet corn from Peter's Pumpkins at the Midtown farmers market – their consistently perfectly sweet and ripe corn is hard to beat and as good raw as cooked.  It also makes great ice cream.
This ultra sweet corn is pureed with the cream and steeped into the base during the cooking process.
For this week's flavor, we've paired it with an old favorite – cinnamon syrup.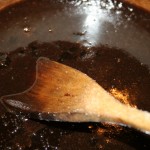 The flavor turned out to be something akin to fried ice cream, yet without any battering or frying.  It's summery, full of sweet corn flavor and accented wonderfully with a cinnamon syrup swirled throughout the pint.

You can be one of two lucky winners of this fabulous, scratch made craft ice cream in our weekly pint giveaway. Enter your name in the comments section here, or on our facebook page under the posted contest. Two winners will be drawn randomly on Friday 8/8/14 at 4pm. Winners must be able to pick up locally. Prizes must be claimed by email within one week or we will redistribute. 🙂 Good luck!