Even though we have, for the most part, moved out of the harvest season, there are still flavors that we never had a chance to bring to life. This is due to the fact that when choosing from the enormous array of local fruits and vegetables, we want to showcase our top picks for the season. This week, we wanted to step back and remember one of the "passed by"; Zucchini! It's one that we passed by in the prime of it's season, but wasn't forgotten. Heck, you might even be able to find a few late-harvested zucchini at one of this year's last Farmers' Markets this weekend. With that, let's jam out this week's flavor: Cream Cheese Zucchini Bread.
Zucchini bread is one of those things that was around a lot when I was a kid. You know how it is in the Midwest during the month of August? Everyone who has a garden is trying to download their monster zucchinis off on everyone else. My mom must have been a taker of many, because it  seemed like there was always another in queue.
It's the Midwesterner's coffee cake. So I thought, let's put it in the ice cream.
Using my mom's age old recipe we started with whole zucchinis and shredded them up. The other standards get added; eggs, sugar, flour, oil, cinnamon and into the oven.
And there you have it – classic zucchini bread! Slice it, butter it and  it's chow time. Only thing, it would become a mushy mess if we added it to our ice cream at this point in the bread's existence.
Instead, we cube the loafer and toss with melted butter and bake until they become beautiful crunchy morsels of zucchini bread goodness. Seriously folks, croutons? So good.
The crunchy crouton morsels get tossed into the ice cream at the end of the churn, but first we have to make our base mix.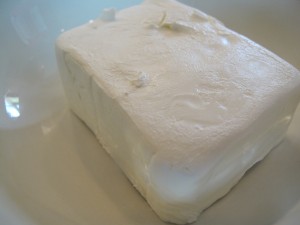 It seemed only right to add cream cheese to our base emulating a cream cheese frosting. It wasn't something that my family traditionally topped our zucchini bread with, but it seemed like the right decision for the ice cream. After all, us Broz are all about adding more dairy to our dairy.
The final result is a rich velvety cream cheese ice cream with crunchy zucchini bread croutons.
You can win one of the only two pints in the world, filled with this fabulous, scratch made craft ice cream in our weekly pint giveaway. Enter your name in the comments section here, or on our facebook page under the posted contest.  2 lucky winners will be drawn randomly on Friday 10/26 at 4pm.  Winners must be able to pick up locally and give us feedback. Pints must be claimed by email within one week or we will redistribute. 🙂 Good luck!