We're at the peak of harvest, and this is the time of year where we start diving more into the savory territory, putting our own sweet spin on the once a year local produce we get here.  There are so many options its hard to choose, whether it be veggie or herb, or a combination of both.  Sometimes its so overwhelming we need to step back and simplify in the wake of the bounty.  Nuts and honey anyone?  Yes.  Throw in some sage?  A perfect curveball.
From beginning to end the process is relatively simple, and totally rewarding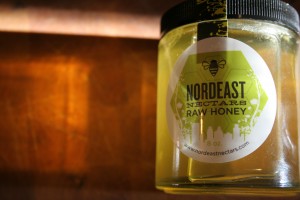 We don't need to talk about how good this honey is a whole lot more, but we will becuase its that good.  Its the difference between sweet, and incredible.
The honey was swirled into the cream as it went into the pints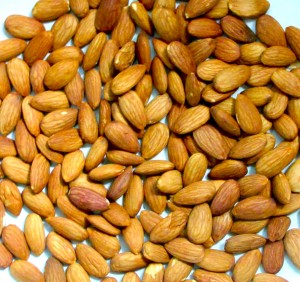 The almonds were roasted ever so slightly, and tossed in a bit of salt.
Almonds were coarsely crushed and added in to be pervasive throughout.
The sage was roasted in the oven, a process similar to what we follow with fresh lavender, which mellows out the "perfumey" tastes, and intensifies the herb flavor.  The leaves were ground and steeped into the base while hot, to fully infuse the sage flavor into the cream without leaving chunks of leaf to get caught in your teeth.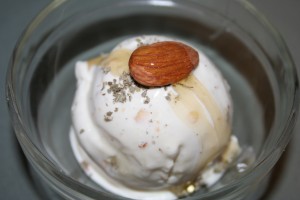 The end result is a light, sweet ice cream – sage providing a nice setup for the honey and almonds.  A perfect summer cream, savory, but not really.  Is that possible?  As far as we're concerned it is.
Want some? Leave a comment on our facebook page to be entered into the weekly drawing to win one of these two of a kind pints of craft ice cream. If you don't have a facebook account, leave a comment right here on the blog. We'll draw two winners on Friday afternoon (8/10/2012) at 4pm and will announce them on our facebook page (or email you if you're comment resides here). Our only conditions are you must be able to pick it up here in Minneapolis, and agree to give us a little feedback that can be shared with everyone else. Good luck!