FrozBroz is in full holiday mode.  And as far as we're concerned, the Holiday season is not complete without the 'Nog.
Around this time of year, our evenings typically include a glass of Whiskey and Egg Nog.  So to officially kick off this month's flavors, we're starting out with our interpretation of our favorite December drink.
First the 'Nog:
A basic home made egg nog doesn't differ much from our plain ice cream base, so making our own from scratch is a simple step in this recipe.
It starts with the eggs.  And we take our eggs very seriously here.  In this particular flavor we used eggs from Callister farms from West Concord, MN.  All of their birds and all are raised free frange, free of antibiotics and growth enhancers.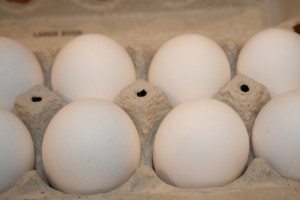 What that means is clean, safe eggs, and more importantly birds that live a happy life.
Next, one of the stars of the show when it comes to Egg Nog – nutmeg.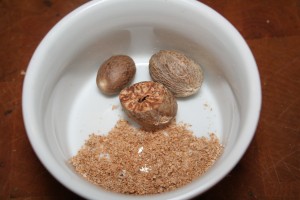 And there's no substitute for freshly ground.  Ever.
To round it out, we add a dash of vanilla and cinnamon to bring the full holiday flavor to life.  Except its missing one thing.  Whiskey .
Now some people might prefer brandy or bourbon with their 'Nog and we believe all are equally acceptable.  Whiskey was the choice for this recipe, particularly because there is a certain brand we favor which shares the same last name as one of the Broz.
Just putting whiskey into the base is boring, so to keep our short attention spans' satiated, we chose to make a whiskey caramel.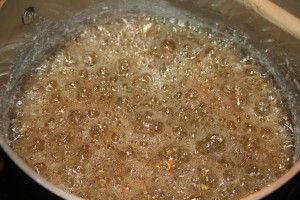 Caramel on its own isn't all that hard to make from scratch, but if it isn't done right, its easy to ruin and fast.  The key is bringing sugar and water mixture to a boil and not touching it until it begins to turn amber.   If stirred before it reaches the point where it turns color, it will turn grainy and gritty.
Once it reaches the desired color we add the whiskey and a bit of cream,  and the result is a gorgeous golden caramel with a nice strong whiskey flavor that cuts nicely through the egg nog base.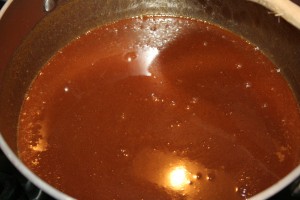 Caramel-y with burn.
To finish it off,  the Whiskey Caramel is swirled into the Egg Nog ice cream.  Don't tell us ice cream isn't for winter.
How about a free pint for you jolly folk? As we do every week, we'll be giving away two pints of this flavor. Just leave a comment on our facebook page to be entered into the drawing. If you don't have a facebook account, leave a comment right here on the blog. We'll draw two winners on Friday afternoon (12/2/2011) at 4pm and will announce them on our facebook page. Our only conditions are you must be able to pick it up here in Minneapolis, and be willing to give us a little feedback that can be shared with everyone else. Good luck!
UPDATE:
Congrats to Jesse Wolf and Nicole Crust! – the winners of this weeks flavor: Egg Nog with Whiskey Caramel. Email us at moneyinmymouth@frozbroz.com for pick up details.