We're hitting our end and we'll continue with everyone's favorite orange root.  Carrots.  Harvest time carrots are the best, and there's no other time to get that carrot-y flavor out than now.  This has been one we've wanted to do for years, and we finally got to it on our list.
These babies are gorgeous, and I can't get enough of them during this time of the year. We grill them, eat them raw, slice, shredded..but nothing is better than roasted in the oven.  The sweetness that comes out of the carrot during this process is incredible, and was the inspiration for this flavor.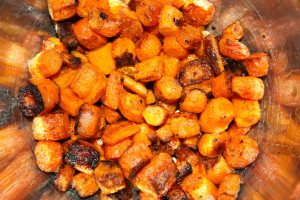 So that's what we did.  We roasted them in the oven in butter until they got all caramelly.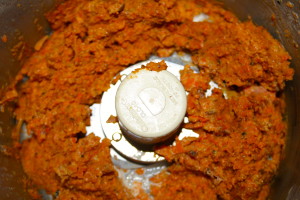 Then they went for a spin in the food processor, and we're mixed into our brown sugar base.  The brown sugar brings the brown butter and the roasted carrot flavor out even more.
And this is our reward – an extremely rich and creamy, roasted carrot ice cream that sings with a deep roasted caramel flavor and ends with a nice carrot kick.
Want to try it? You can win one of the only two pints in the world, filled with this fabulous, scratch made craft ice cream in our weekly pint giveaway. Enter your name in the comments section here, or on our facebook page under the posted contest. 2 lucky winners will be drawn randomly on Friday 8/23/13 at 4pm. Winners must be able to pick up locally and give us feedback. Pints must be claimed by email within one week or we will redistribute. 🙂 Good luck!