One of the best parts of making all of this ice cream is meeting the local farmers and food purveyors.  There are so many fascinating stories and interesting people with a passion for food, we really would have to try to NOT be inspired.
A perfect example of this is the folks from Nordeast Nectars.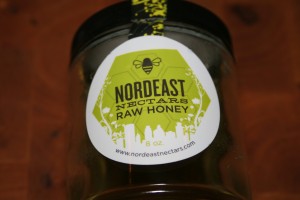 Nordeast was born out of updates in Minneapolis City ordinance allowing residents to keep bees within city limits.
The modern day bee is a vital cog in nature's food chain and is rapidly dwindling in numbers. The rise in use of pesticides and factory farming has nearly choked the American honey bee out of its natural, rural habitat and American farmers are now having to import them to acheive  successful pollination.
Believe it or not, honeybees are finding a happier home in cities where flowering plants aren't covered in five kinds of weed and pest killer.  Nordeast Nectars is making a point to champion urban bee keeping, and will be doing some really fantastic things in the next few years to do their part in repairing the bee population .  Lucky for us, they've taken their passion for giving honeybees a place to thrive and made some of the best, and most unique tasting honey around.
Needless to say when we got our hands on one of these amber jars of beauty, ice cream wasn't far behind.
What goes good with honey?  Actually just about anything, but especially nuts.  And we just happened to have a pile of cashews that were dying for attention.
Not so fast..
Rather than just throw handfuls of these into our base, we decided to double down and make a ginger cashew butter to provide a nice hearty cashew flavor.
Smooth.
We incorporated this fresh ginger cashew butter into the cream and threw in a bunch of salty, crunchy cashew chunks at the end.
As the ice cream was packed into the pint containers, that incredible Nordeast Nectars honey was swirled in, creating luscious little pockets of floral goodness.
And as every week previous, you can win one of two available pints of this weeks flavor, just leave a comment on our facebook page to be entered into the drawing. If you don't have a facebook account, leave a comment right here on the blog. We'll draw two winners on Friday afternoon (10/21/2011) at 4pm and will announce them on our facebook page. Our only condition is you must be able to pick it up here in Minneapolis. Good luck!