We're deep into tomato season, which brings us to this crazy idea we've had. Not just us, but a few of our most loyal fans have suggested such a flavor as well. A BLT of sorts, sans the lettuce, cause who needs the lettuce anyway? Personally, it's always been about the bacon, tomato, and mayonnaise for me. In ice cream though? Hell yes!! We knew this would be a laborious flavor, but it's like any other ice cream flavor we've ever made…we just have to know what it would taste like. So here it is, this week's flavor – Bacon Tomato and Mayo on Toast.
We've tackled tomato ice cream before, but in a different way, using a fresh uncooked tomato paste. For this flavor, I wanted to use every bit of the tomato, juice included, only discarding the seeds. After digging around a little on the interwebs, I decided to emulate a technique used by Kathy Miles. To start with, I made a tomato concasse. For those unfamiliar with the process, tomatoes are boiled for a short time, shocked in ice water, peeled, quartered, and then seeds and innards removed, leaving only the meat of the tomato. Here, I placed all seeds and innards into a fine mesh strainer and jammed all of the liquid through with a wooden spoon.
The tomato concasse (meat) is torn into pieces and placed on a sheet pan lined with parchment paper. The tomatoes are sprinkled with sugar and slow roasted in a low temperature oven for a few hours. The tomatoes are sweet and dehydrated, but not leathery. They are reserved to get mixed into the ice cream before packaging.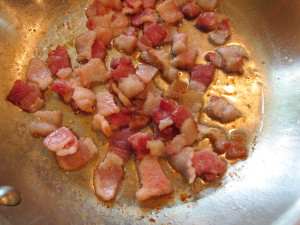 Next, I'm using the reserved tomato liquid that I jammed through the fine mesh strainer to make a tomato paste/syrup. The paste will be used to flavor our ice cream base. A small amount of sugar is added to the liquid, and it is reduced to a syrupy paste. Now to make our tomato bacon ice cream base. After lightly rendering chopped bacon, the bacon and its renderings are added into our standard cane sugar ice cream base with a few extra egg yolks for steeping. The egg yolks are giving homage to mayonnaise. The base is pasteurized, and the chopped bacon is strained out with a fine mesh sieve. The tomato paste is whisked in.
While the base is cooling, it's time to get our toast into the ice cream. White bread is toasted with a heavy hand, and then crumbs are scraped with a butter knife into our bacon and tomato base. Once the base is cooled, it is ready to churn.
Over the years, we've made a number of flavors with bacon, and it has always been a challenge to keep bacon crunchy in the ice cream when desired. This is our best technique yet for crunchy bacon staying crunchy in ice cream. First, thick sliced bacon is baked on a sheet pan in the oven until lightly browned and partially rendered. The bacon is drained on paper towels and cooled. The cooled cooked slices are then diced fine and rendered again over medium high heat until very crispy and brown. This is the crucial step…remove bacon from pan with a slotted spoon and place on plate/pan to cool WITHOUT paper towels. Leaving some residual fat on the bacon will ensure that it stays crispy and crunchy. Once cooled, the fat will form a protective layer around each tiny piece of bacon so that the ice cream will not penetrate and soften the pieces. The bacon is added into the ice cream at the end of the churn along with the sweet roasted tomatoes.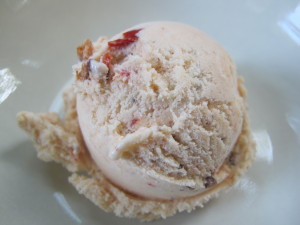 Deep into tomato season and another crazy idea becomes true ice cream. Bacon Tomato and Mayo on Toast – it's an irresistible ice cream BLT.
Bacon Tomato and Mayo on Toast
Sweet Roasted Tomatoes and Tomato Paste:
3 Tomatoes, large
3 Tablespoons Cane sugar
Crunchy Bacon:
2 pieces bacon, thick cut
Ice Cream Base:
2 cups Heavy Cream
1 cup Milk
1/2 cup Cane Sugar
2 Eggs
2 Egg Yolks
1 teaspoon Sea salt
2 pieces Bacon, thick cut
2 pieces Bread, White
Tomato paste, from reserve
Instructions:
1. Make Tomato Concasse: Bring a large pot of water to a boil. Fill a large bowl with ice water and set aside. Place a fine mesh strainer over a bowl and set aside. Cut an "x" in the bottom of each tomato with a knife. Place tomatoes in pot of boiling water for about 20-30 seconds. Transfer tomatoes to bowl of ice water and allow to cool for a few minutes. Peel skin from tomatoes. Cut each tomato into quarters, remove seeds and place them into fine mesh strainer to drain. Reserve tomato concasse (the meat of the tomato) for roasting and reserve the strainer material for tomato paste.
2. Make Sweet Roasted Tomatoes: Preheat oven to 250 degrees. Tear reserved tomato concasse quarters into pieces and place on parchment lined baking sheet. Sprinkle with 2 Tablespoons of sugar. Roast in oven for 2-3 hours until tomatoes have lost most of their moisture. They shouldn't look dried out like sun dried tomatoes, but should be fairly dehydrated. Cool and remove sweet roasted tomatoes from parchment and reserve for ice cream.
3. Make Tomato Paste: Using the tomato seeds and insides that are reserved in fine mesh strainer, use a wooden spoon to crush all of the tomato liquid through strainer into bowl. The remaining seed material in the strainer should be dry and amount to very little after all has been pushed through. Discard solids. In a sauce pan add 1 Tablespoon of sugar to tomato liquid. Over medium high heat, reduce liquid to a syrupy paste consistency, stirring frequently so not to burn the paste. Remove from the heat and reserve for ice cream base.
4. Make Crunchy Bacon: Preheat oven to 400 degrees. Place bacon on sheet pan and bake for 20-25 minutes or until bacon is cooked, but not rendered completely, and is not crispy. Remove bacon, drain on paper towels, and cool. Chop bacon into a fine dice. Over medium high heat, place diced bacon in saute pan and render a second time until dark brown and crispy. Remove bacon from pan with slotted and place on plate to cool. Do not place on paper towels or pat dry with paper towels. Place cooled crispy bacon in air tight container, freeze, and reserve until ice cream is at the end of churning.
5. Make ice cream base: Crack eggs and yolks into a mixing bowl and whisk fully.  Add cane sugar and whisk.  Add heavy cream, milk, and salt.  Whisk until ingredients are combined.
6. Cook/pasteurize ice cream base: Roughly chop bacon. In a sauce pan over medium heat, render bacon until it starts to brown. Add ice cream base. Continuing over medium heat, whisk or stir base continuously until temperature reaches 165-170 degrees.  Remove from heat. Allow bacon to steep for 10 minutes. Meanwhile, toast white bread in toaster until well done. After bacon steep, strain base into a clean bowl with a fine mesh strainer. Add reserved tomato paste. With the back of a butter knife, scrape toast crumbs into ice cream base, and eat or discard toast after scraping. Whisk paste and toast crumbs into base. Cool ice cream base to room temperature (an ice bath will do this in about 15-20 minutes). Cover base, and chill in refrigerator overnight.
7. Churn ice cream base in ice cream machine according to manufacturer's instructions. During the last minutes of churning, add in sweet roasted tomatoes and crunchy bacon. Store ice cream in air tight container in freezer until chow time.
*Yields approximately 2.5 pints
If you'd rather not make it, you can be one of two lucky winners of this fabulous, scratch made craft ice cream in our weekly pint giveaway. Enter your name in the comments section here, or on our facebook page under the posted contest. Two winners will be drawn randomly on Friday 9/11/15 at 4pm. Winners must be able to pick up locally in Minneapolis. Prizes must be claimed by email within one week or we will redistribute. 🙂 Good luck!